A little bit about us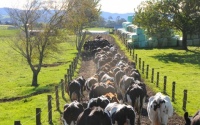 Our Company
Locally owned and operated with a customer base throughout New Zealand and extending to international deliveries also. All our products have a point of difference in the market that shows them to be leaders in innovation.

Whether it be the innovative SurePulse milking system adding real value to a dairy operation, or the Sealfflex range of high performance wet weather gear - NZ Dairy Distribution continues to seek new products to offer.

There are so many facets of farming today, whether Dairy or Drystock or Agricultural that when it comes to buying our products - you know you can trust they will do what they are supposed to.

Our People
We're proud to say we have a team at NZ Dairy Distribution that are passionate abut the products and services we offer.

Our consultants are on the road visiting farms and businesses everyday. We have a team of office based people to support our consultants along with ensuring prompt and efficient service and delivery.